Magic in The Land of Oz!
Updated: February 27, 2017
Magic in The Land of Oz
I always think of a dialog with Spirit as magical especially when you ask for a sign and get one. I am always in awe of how that works. Ask Spirit to show you something meaningful and then there it is. Ask and you will receive!
I had the wonderful privilege of being a guest on the Dr. Oz show this week(air date TBA). The interview was about mediumship something that took me forever to embrace because it had been so difficult for me to quantify, not sure that I believed I was doing it, as well not the direction I had wanted to go in. I won't bore you with the details (if you've followed me for a while you probably already know them anyway!). Suffice to say that for many years I was reluctant to claim this ability of mine.
Man plans.
God laughs.
I have long since opted out of the debating team in my head. Today it's not about whether I believe it or not anymore. It's that I know it with every atom of my being. I know that I am a full- blown dead talking medium and have come to see this as the greatest and most profound service I could ever offer (other than empowering others with oracle cards).
To get here, however I have had to do a lot of work to move beyond my fears and ego quirks and foibles and embrace my authentic self.
Have you ever experienced this? Your version of fighting against who you really are in order to conform, or to try to fit into a box that you think will be safer, or more popular, or mainstream, or that looked cooler but decidedly is not for you? What about fear of what "they" will say? Nowadays there are so many "they's" hiding in the bushes of the cyber-sphere adding their opinions to the existential "they" you might be colluding with to keep yourself small- it's hard to decipher anyway. Even if you think you know why being yourself is so hard, it's the one thing that we need to unlock to claim our true partnership with Spirit.
Frankly it's all exhausting isn't it?
Resistance is futile.
Your magic is waiting.
You can't claim your unique, authentic inspired life without the "full monty" of being yourself. Even if you're scared, and it's ok to be scared, you be you anyway. The closer you get to being the real you, the more in sync and in alignment with Spirit you get and then the more magic you'll see in the world.
What kind of relationship do you ignite when you're in sync with Spirit? The evidence will show up in the events of your world. And, when you ask for a sign, you really can expect an answer. Regardless of the temporary conditions that may be unsettling the most amazing things can pop up seemingly out of nowhere to remind you that all is well and Spirit is not only watching but has a sense of humor too!
This leads me to share my story with you and I hope you will share yours after!
In short my two main go to conversations with Spirit are super simple. When I'm in doubt or need confirmation about something I ask " Show me a sign and make it so obvious I can't miss it. Thank You Thank You!"
And " Show me who I can help today. Thank You Thank You!" The key is being grateful in advance. The work is being willing to accept the answer.
A year and a half ago my husband and me were inspired to produce what we hoped would become a TV show called The Motorcycle Medium. I ride a Harley and riding is a sign of my spiritual fitness. We had a great idea that blending the two would be a very cool show. Healing and Harleys! We loaded up a few episodes on Facebook from a mediumship tour I did that summer. Then in a series of synchronistic events we signed a deal to make it happen and without giving too many details, things changed, morphed and twisted and morphed again (as it always does in TV land) and at the beginning of this year it was apparent we might have to surrender this dream. But, It just didn't feel finished!
The thing is when we hold on too tightly to anything it works against us. I know this and so I asked for a sign. Do I let this moniker go? I really was ok with it. I had no sign. So I surrendered and figured O well. Next.
A couple months later I get to the Dr. Oz set. (haven't forgotten Oz- and what a kind respectful man he is)
There above my head where I'm told to sit is my sign.
A big giant one.
The Motorcycle Medium hovers above my head. (see photo)
Yes Colette. That would be an obvious sign.
Alrighty then! Guess I will still be riding that iron horse after all!
Ah but that's not all!
The land of Oz had even more magic to reveal.
I was given 15 minutes to do readings and although I was able to complete two wonderful readings during the course of tuning in I kept hearing Spanish voices that kept interrupting my flow, which made me loopy. A family of three kept trying to get my attention but I couldn't make a clear connection.
Fast forward to the street outside ABC. Show is over, I am now laughing about The Motorcycle Medium and waiting for Uber with some friends.
The last people come out.
It's the three women, a mom and her two daughters.
My head explodes in Espanol.
Spirit has plans for us.
"Show me who I can help."
The third daughter who had passed in December comes through with a big wonderful and wild personality and delivers messages of love for her family. "I am safe. I'm ok now." She tells me to hug "Carmen" her mom.
You can taste healing and closure. It's the sweetest thing in the world.
I am so full of gratitude.
What if I had given into my fear of being too weird, or not being acceptable etc? What if I had stayed in an ill- fitting box? What if I had refused to face my stories and kept telling the ones that depicted me as a victim? What if I hadn't stayed sober these 31 years?
I would never have had this opportunity to be a conduit for Spirit to help others.
So .. tag you're it. Tell me a story of how you moved beyond your fears to claim the real you and how asking for a sign shows up when you need it!
When you are the authentic you everyone benefits.
And, Spirit gets very chatty.
"Show me a sign, and show me who I can help"
Thank You Thank You Thank You
Vroom Vroom.
Love, Colette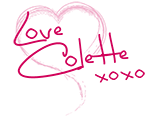 WEEKLY ORACLE CARD FORECAST