JOIN OUR COMMUNITY
•  NEWSLETTER  •  BLOG  • GOODIES & FREE STUFF  •MP3 MEDITATION DOWNLOADS
New Oracle Card Deck by Colette Baron-Reid
MYSTICAL SHAMAN ORACLE
Imagine feeling connected to the earth's wisdom and receiving powerful messages from universal sacred symbols. Envision yourself tapping into your inner knowing, and creating space to expand your intuition and co-creative powers, as you set intentions that become the foundation of your new story.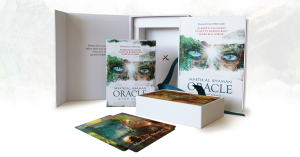 The Mystical Shaman Oracle deck is the guide that will inspire you to open up your connection to the Earth, to Source, to the Universe.
This deck was lovingly co-created with Alberto Villoldo, a medical anthropologist who has studied shamanic healing techniques for more than twenty years and Marcela Lobos who is also expertly trained in Shamanic traditions.  Together, they brought ancient symbols to life in the form of an oracle deck that blends mystical and shamanic wisdom.
The messages from sacred universal symbols, will bring to your awareness the collective wisdom of the natural world and help expand your self-awareness, as you become more in tune with your true Self.  Using this deck will inspire you to have the courage to transform, claim more beauty and joy in your life, and add to your sense of well being and wholeness in the world. Let the ancient earth symbols of the Mystical Shaman Oracle enter your heart, connect you to the Earth and give you clarity to move forward with the choices that shape your life.  Dream a new story of your most extraordinary life and watch the miracles unfold!

 Learn More and try out the Mystical Shaman Oracle deck today!