Your Sacred Community To Partner With Spirit And Connect To The Divine
Welcome,
DIVINE MAGICAL YOU!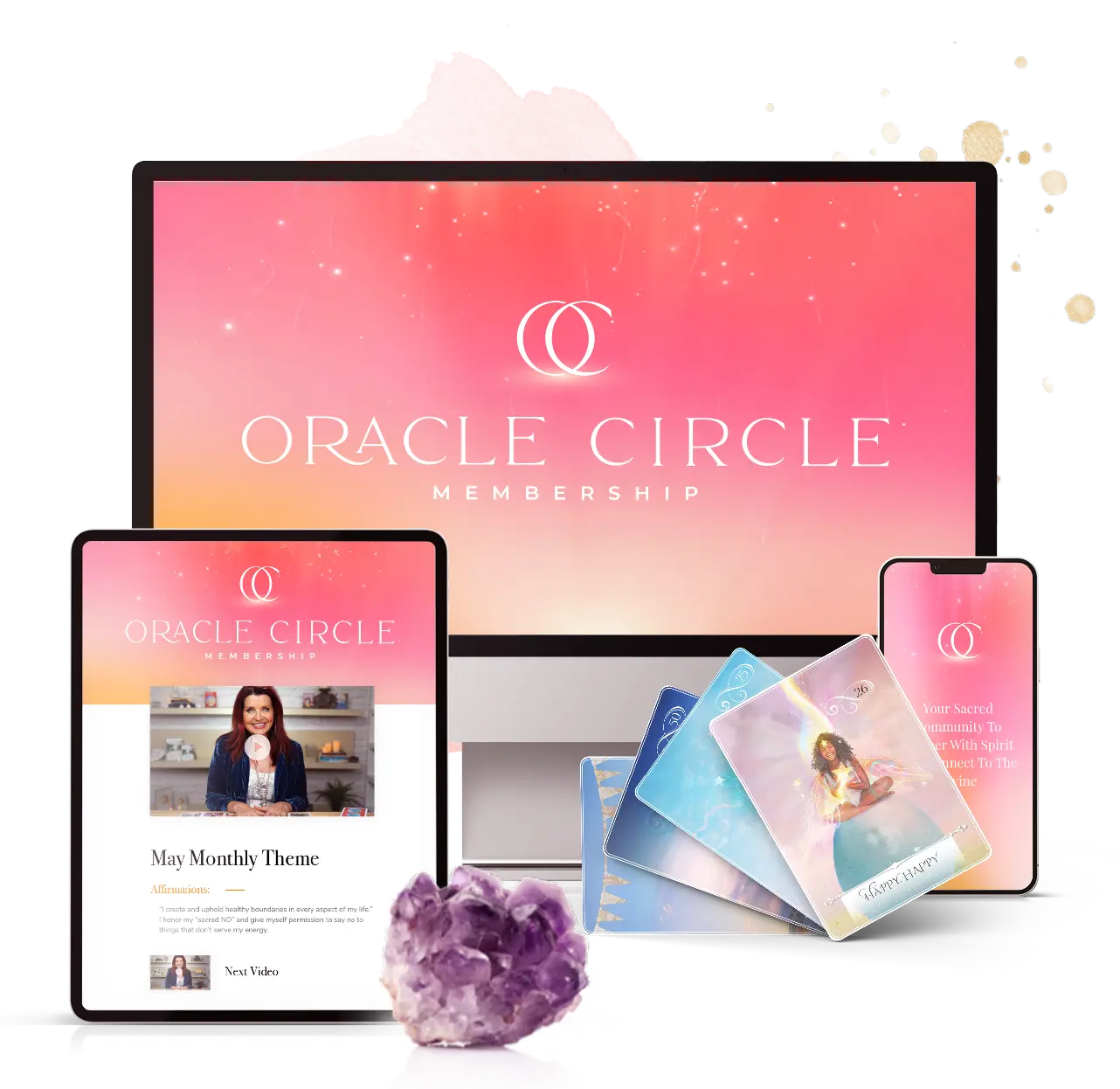 Join Us
The Oracle Circle Membership is open to new members now—for a limited time!
Join a safe, uplifting and inspiring space to deepen into your spiritual journey and strengthen your connection with Spirit and your intuition. 
You'll learn how to tap into your inner knowing by exploring how astrology, Oracle cards, numerology and energetic cycles can play a positive role in your life in the Here & Now.
Each month you'll receive resources, live calls with Colette and the Membership Mavens, and an opportunity to have Colette do a reading for you at members-only events! 
So if you want to feel at peace and confident that you have all the spiritual tools you need to face whatever comes your way, the Oracle Circle is calling out to you.
WHAT OUR ORACLE CIRCLE MEMBERS ARE SAYING…
"The Oracle Circle is a safe space for me to learn, grow, and glow in this supportive community. I love the Spirit Jam events, and I'm blown away by how much information we receive each month in the moon readings, suggested questions/card spreads, meditations, and more. I'm so glad to be part of this circle."
Michelle B.
"With Colette's guidance and with friends who support my growth, I feel very safe. I've learned that it's good to get support from like minded spiritual friends within the Oracle Circle community, and this group shares their private stories and ready to uplift and dance in the fire with you - that's rare to find. You feel witnessed, cheered on, and that your presence matters - that brings me hope. As an indigenous person, that sense of belonging is what I've been searching for a long time, and Colette has welcomed me with open arms."
Trisha C.
I am a newbie to this wonderful Circle (which feels more like a family re-united) and have already received such wonderful insights, inspiration and clarity regarding my next steps; with that reminder of how what is meant to be is meant to be!"
GIA P.
AN UPLIFTING AND SUPPORTIVE JOURNEY INTO THE
SACRED CIRCLE
In the Oracle Circle, you'll go from second-guessing your gut feelings to feeling confident and on-
track whenever you connect with your intuition.
The Oracle Circle is a safe, courageous, and authentic community where you'll discover your inner
wisdom and get answers to your deepest inner questions. You'll learn to trust yourself and the
messages from Spirit that surround you every day.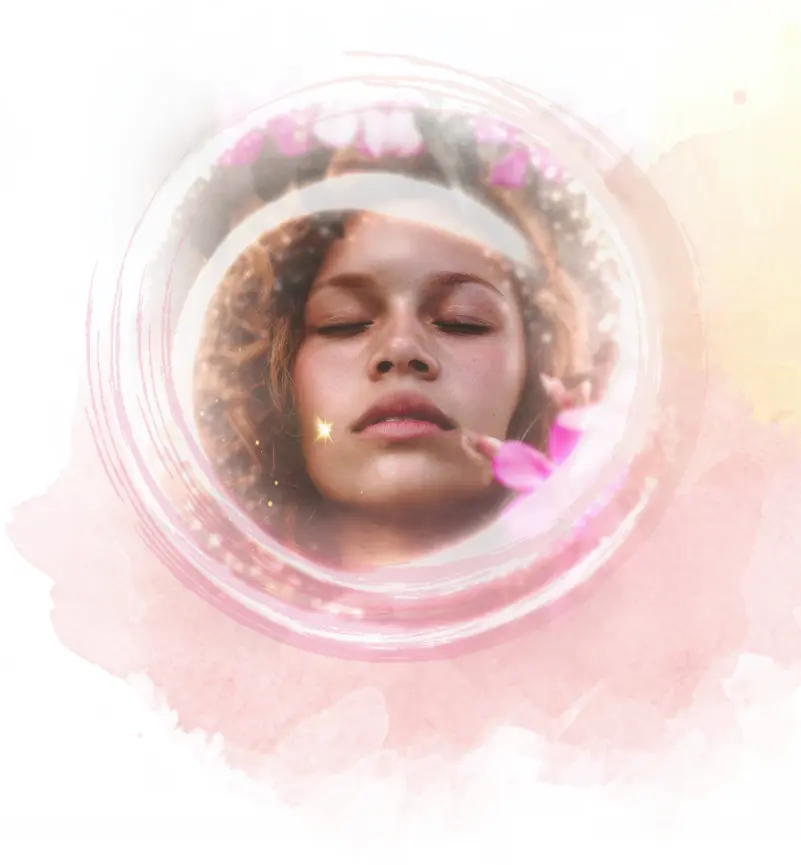 You also come to understand what I've learned in my over 30+ years of spiritual growth work and divination practice: nothing occurs in our inner world by accident and you're never alone!
As emissaries of the Divine, we're each an essential part of the cosmic whole, and we all share certain potent life and energetic patterns as we learn, transcend, and explore the world around us (and inside of us!). 
Those patterns form a Sacred Spiral, creating a path leading through 12 interconnected focus areas. Together, they provide the opportunity for continual self-renewal, self-knowledge, and personal growth. 
As you complete the orbit and begin anew, you realize you have raised your vibrational energy. You never repeat the same cycle; you actually traverse through it at a level of higher consciousness! 
This Sacred Spiral is the foundation of the Oracle Circle membership. Each 12 months, we'll journey together through the 12 Mystical Focuses, guided by what our souls intuitively yearn to discover.
SAY "YES" TO THE SIREN SONG OF YOUR SOUL! WE'LL TRAVEL TOGETHER INTO THE LAND OF INFINITE POSSIBILITY.
EVERYTHING YOU NEED TO NAVIGATE THE
LAY OF THE LAND

AND YOUR SOUL'S UNIQUE PATH
In the Oracle Circle, you'll find the tools, community, and support you need to trust your intuition and connection to the Universe so you can navigate real-life change and follow your soul-led desires.
When you join, you'll get instant access to a full library of:
How-to materials so you can make the most of your spiritual practice using the same tools and techniques that Colette relies on to stay connected to Spirit
Mini-lessons on how to read Oracle Cards so you can get more insight and a deeper reading whenever you feel called to pull a card
Guided meditations to help you feel grounded, and connected to your soul's path
Oracle Card readings by Colette to understand where you've been and where you're going, and how to watch for the way Spirit shows up in your life
New resources and experiences monthly, designed to help you get more clarity and understanding of meanings, signs, synchronicities and manifestation
You'll also be immediately embraced into the community —
A warm, welcoming, and accepting collection of soul-led individuals,
seekers, and magic-makers. You'll join like-hearted members who can't
wait to support you on your sacred journey of growth!
Just a Sample of
OUR MONTHLY MYSTICAL FOCUSES…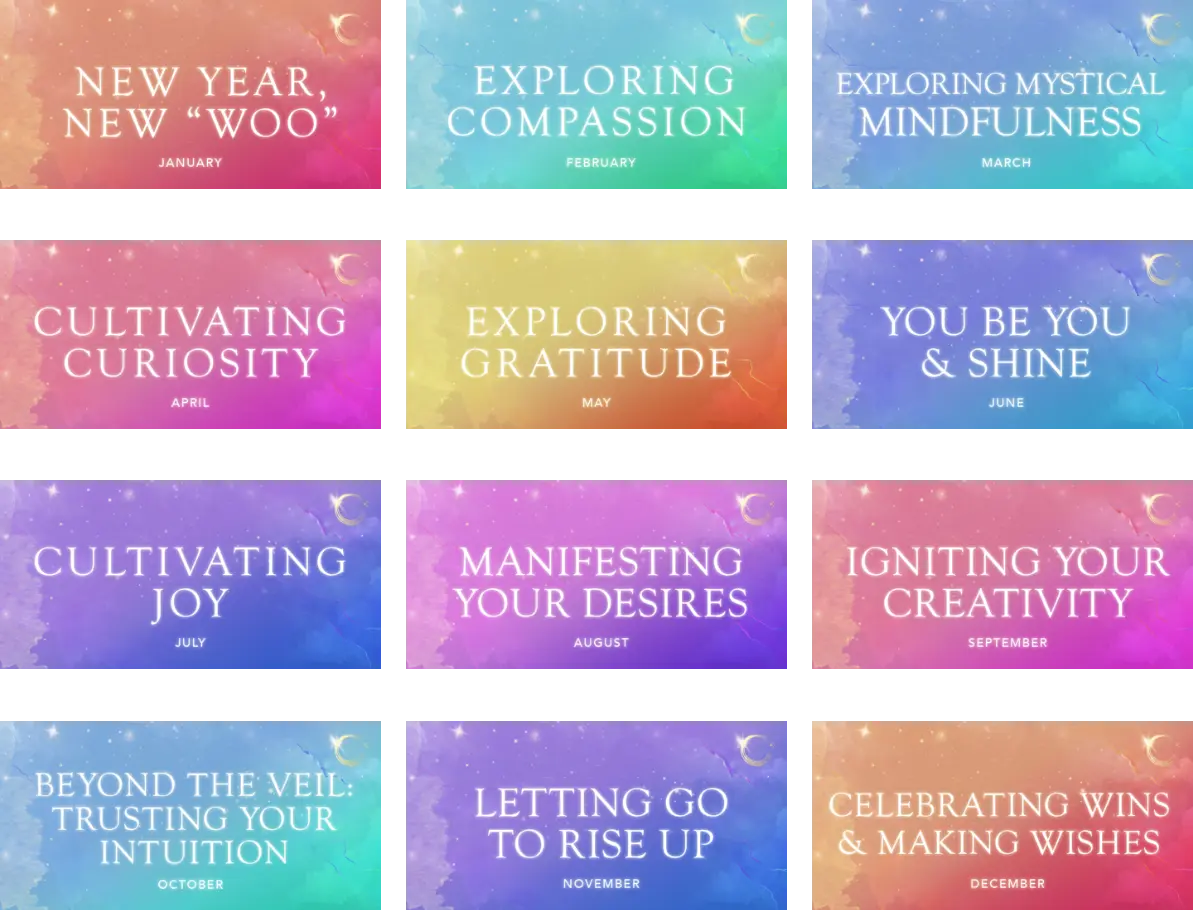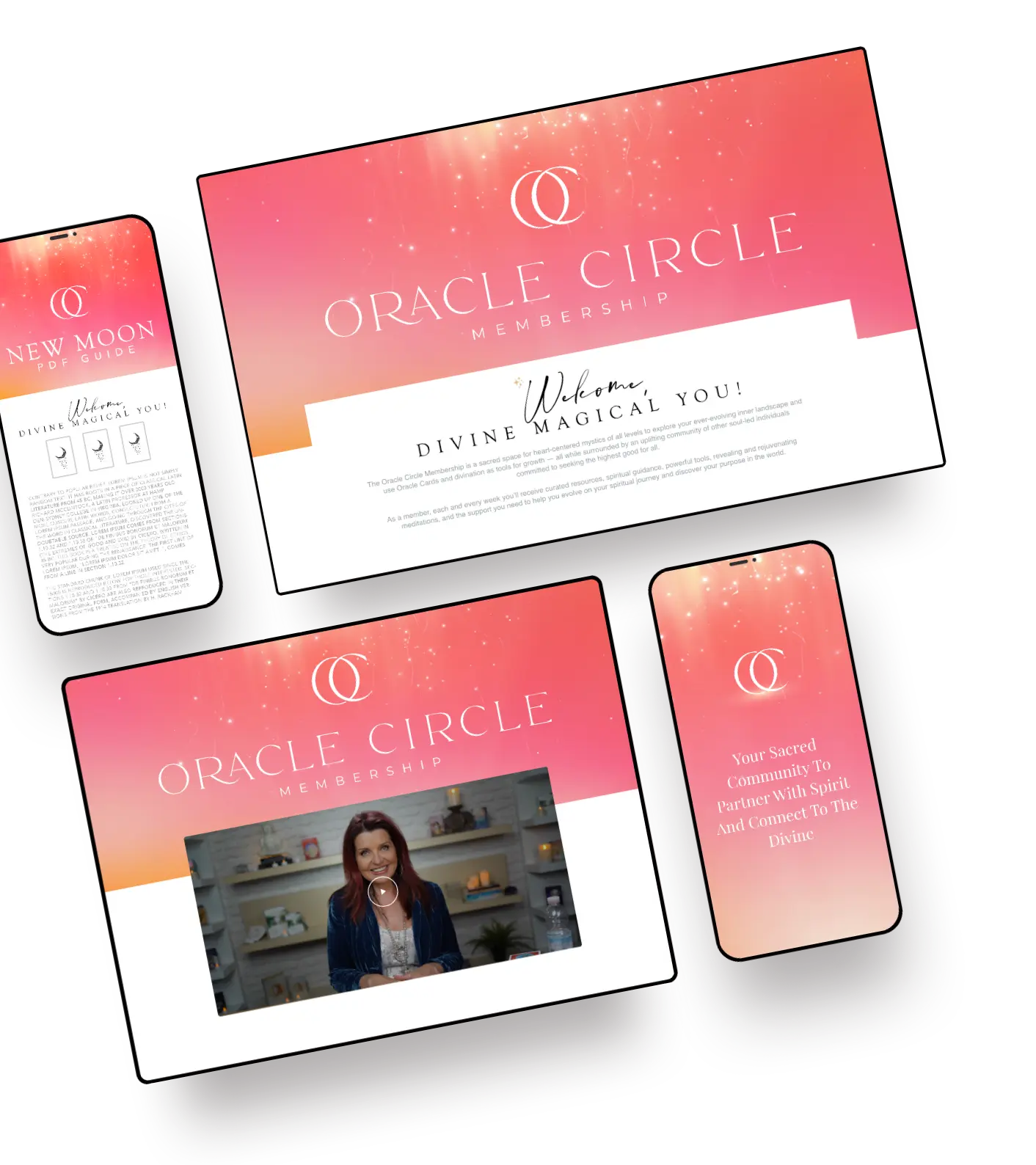 FINALLY A MEMBERSHIP AS MULTIFACETED AND
BELOVED

AS YOU ARE…

As you evolve, mature, and discover more about yourself, you may find yourself gravitating to different resources in different seasons of life. Some seasons you may have more time, or less time. You may want more interaction, or to go deep in just a few areas. Heed the calling of your soul… it's all there for you, via tablet, computer, or phone, whenever and wherever YOU want!
YOUR MEMBERSHIP INCLUDES:
Monthly Mystical Focus Videos
Each month Colette will share a fun and inspiring video (she even does it LIVE in the Facebook group sometimes!) where she introduces the month's mystical focus, reads an Oracle card spread, shares tips for practical spirituality, leads a meditation and takes questions from members!
Monthly Mystical Focus PDF Guide
With journal prompts, affirmations, and exercises for self-discovery…
Monthly Affirmation Screensavers
Take your monthly affirmations with you everywhere you go on your phone and tablet…
Exclusive Membership Discounts
Get discounts on Colette's courses and events like our annual "OraclePalooza Virtual", "Manifesting Workshop" and "Invision: The Total Mindshift Process"!
Plus,
YOU'LL RECEIVE THESE REGULAR
MONTHLY BONUSES WHEN YOU JOIN NOW!
Twice Monthly LIVE Members-Only Spirit Jams
!
Spirit Jams are virtual events where Colette provides direct spiritual guidance for select attendees, performs readings, and even channels friends and loved ones who have passed over.
Monthly New Moon and Full Moon Videos and PDF Guides
Watch Colette and special guest astrologers like Dr. Michael Lennox share how the stars set the stage for the coming month.
Our Exclusive Oracle Circle Facebook Community
Skillfully hosted by our Membership Mavens, where you'll receive virtual accountability with like-minded people.
Exclusive Spiritual Learning Resources Library
Instant access to an on-demand video learning library which includes Oracle Card Deck Overviews, Oracle Card Foundations, Manifesting with Oracle Cards and more!
A Library of Guided-Meditations
Enjoy soothing and centering guided meditations for healing, manifesting, stress relief, anxiety, creativity and other topics led by Colette.
special guest teachers
Monthly Guest Experts who will share their expertise and provide additional support and insights on topics YOU ask for like Dreams Practices, Numerology and more…
Join Now
And Get This Extra Bonus…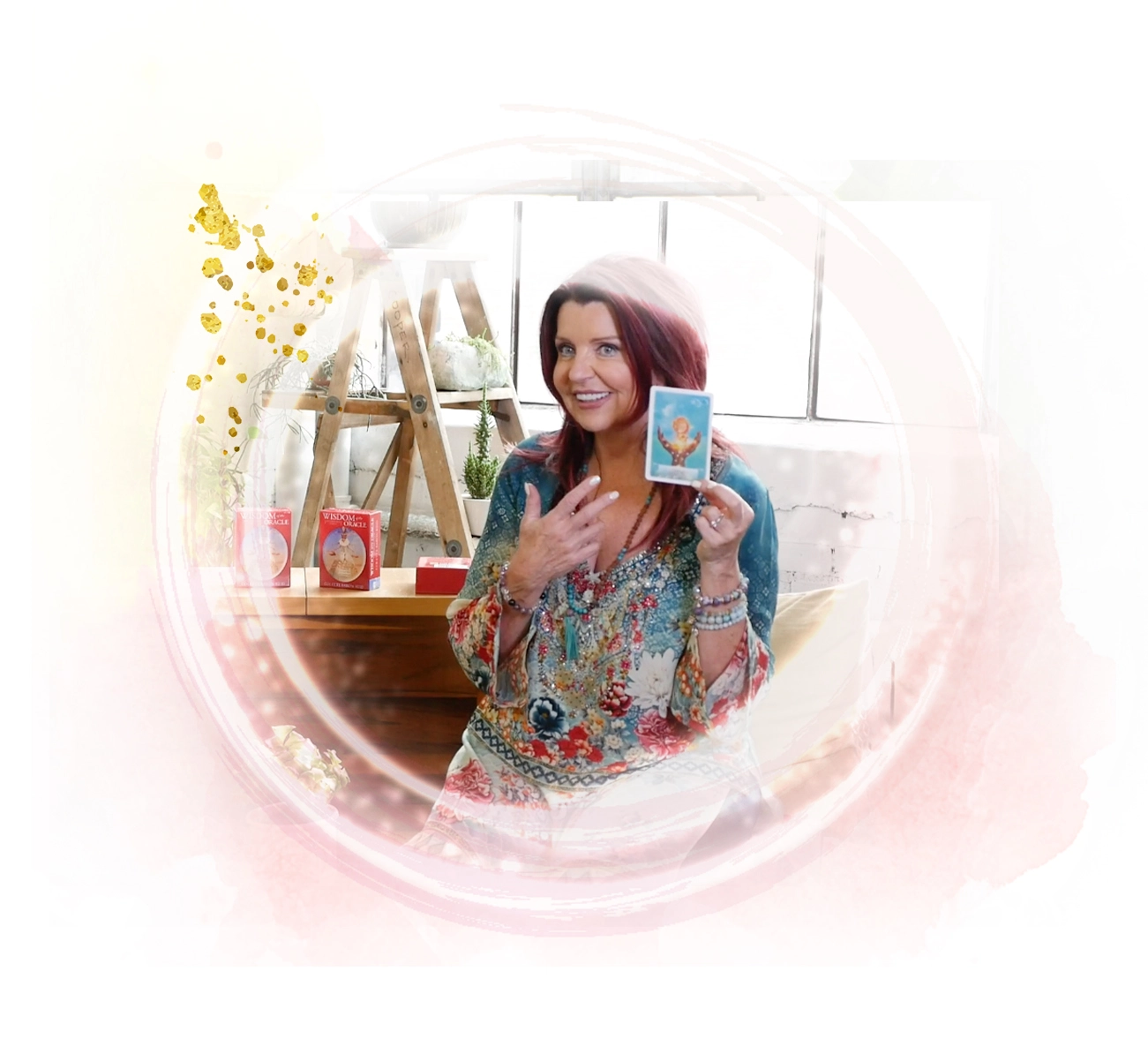 Bonus:
Wisdom of the Oracle REVEALED
In this interactive video training series, Colette goes through each of the 52 cards from her top-selling Wisdom of the Oracle Deck! Each 5-minute video shows you how to read a card intuitively. You'll receive a total of 260 minutes of learning with Colette!
Colette teaches each card's general meanings as well as meanings when pulled for prosperity, relationships and in protection (a reverse card)!
This training series is yours for FREE only while you are an active member of the Oracle Circle.
"I don't have enough words to talk about the amazing community that we share in the Oracle Circle Membership. It's so wonderful! All the valuable information that Colette and her team share with us daily to help us keep focused in our internal growth and expansion, the love, the respect between the collectivity, and the wonderful mavens are the best part of this experience.
"
– IVETTE S.
A Sneak Peek Inside
the Oracle Circle Membership Learning Platform…
YOUR DECISION IS GUARANTEED!
JOIN TODAY AND CANCEL ANYTIME, NO QUESTIONS ASKED!
We don't want you to miss out on this opportunity to join the Oracle Circle while the doors are open! That's why if you sign up for the Oracle Circle Membership now and decide you would like to cancel it, you can easily self-cancel, no problem! 
Or you can email our support team and your account and access will be cancelled within 24 hours. We make it easy for you.
FREQUENTLY ASKED QUESTIONS
What is the difference between The Oracle Circle Membership vs. Oracle 101 vs Oracle School?
The Oracle Circle Membership is a month to month community-based membership to help you evolve on your spiritual journey with other like-hearted members.
The Oracle Cards 101 course teaches you how to move through your immediate environment and experience, how to recognize where you are, what's going on and how to navigate the reality that is already there. It's not about changing yourself; rather, it teaches you how to be metaphysically present to conditions and to make choices for your highest good.
Oracle Cards 101 is about present moment and short term influence. It's being empowered and aware of the conditions you're working with. It's more immediate.
Oracle School is actually three courses, plus an integration period. The first, Personal Mastery, is using Oracle Cards as a tool to answer the inward focused question, "Who do I want to become?" It's all about moving from what's in front of us to co-creating a new reality, diving deep into personal transformation, self-revelation and healing, and discovering your magic to work with Universal Law. These concepts are expanded upon in the Invision Process and Shared Wisdom courses.
I've taken other divination/metaphysical courses. What is different about this membership?
Thank you for asking! With the Oracle Circle Membership you'll find regular content for all things related to Oracle Card readings, intuition, and divination as a tool for growth.
The Oracle Circle Membership is your place to create an ongoing practice of working with Oracle Cards and other tools for your spiritual growth. Your membership in the Oracle Circle will help you evolve on your spiritual journey while you discover your purpose in the world.
And the best part… you journey alongside a fantastic community of like-hearted members!
Do you offer membership payments in Canadian or International funds?
Our company is based in the US, and therefore all courses are priced in US funds.
What is the cancellation policy?
If you sign up for the Oracle Circle Membership and decide you would like to cancel it, you can self-cancel any time before your next billing cycle and you will not be charged the next month. Email teamcbr@colettebaronreid.com to confirm that you'd like to cancel and your account and access will be canceled within 24 hours.
What's included in this membership?
Great question! 
YOUR MEMBERSHIP INCLUDES:
Monthly Focus Facebook Live!
Join Colette for these fun and inspiring live sessions as she introduces the month's theme, reads an Oracle card spread, shares tips for practical spirituality, leads a meditation and takes questions from members!
Monthly Affirmation Screensavers

to take your reminders with you everywhere you go

Monthly Mystical Focus PDF Guide

with journal prompts, affirmations, and exercises for self-discovery

Exclusive Membership Discounts on Colette's courses and focus events like our upcoming OraclePalooza Virtual!
Along with a ton of other Bonuses!
How does this membership content get delivered to me?
Once you receive your welcome email containing your login information, you will have access via our Facebook Group and our library of materials located in our online Oracle Circle Membership learning platform.
I don't have Facebook. Can I still join this membership?
Of course! Even though our Facebook Group offers the community portion of this membership, you can access the rest of the membership materials without it! All of the videos, PDFs, meditations and a library of materials will be located in our online Oracle Circle Membership learning platform.
What do I get as soon as I sign up?
Upon purchasing your membership you will get instant access to the Oracle Circle Membership learning platform, plus other goodies in your welcome email!
Are the live calls recorded?
Great question! Yes, the live calls are recorded so if you can't make them live you can view them at your own convenience.
Do I get certified with this membership?
This membership does not include a certification. It is a membership and community for you to build your education, intuition, and confidence while reading Oracle Cards and using other divination tools.
I don't have a credit card. Can I make a payment for this membership site another way?
Unfortunately, we are only able to accept payment via a credit card or bank debit card with a credit card attached for this membership program.
I am having trouble purchasing a membership.
We are sorry you are having trouble signing up for the Oracle Circle Membership. Our platform is best used on browsers like Google Chrome or Firefox. Also, if you are on a mobile device you will want to make sure you have a strong connection to the internet when making the purchase. You can email us at teamcbr@colettebaronreid.com and we will do our best to assist you!