Milk And Honey!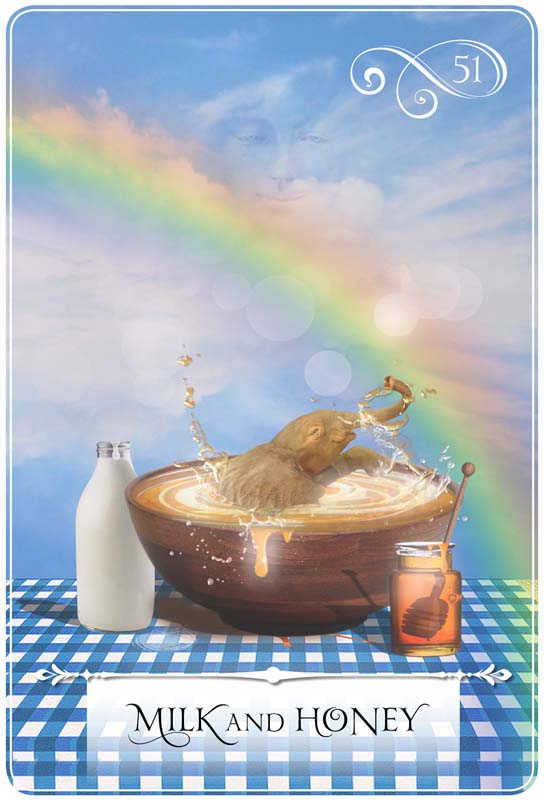 Milk And Honey
The Oracle's message: You've entered a sweet time in your life, enjoying the "land of milk and honey" that everyone wants to experience. It's an interlude that feels more languid than ambitious, when all your senses are awake to the unlimited possibilities in the universe. These times are precious and only come when you're in your authentic zone, "wearing the world as a loose garment," not wanting, yet able to be nourished in ways both tangible and subtle. Abundance is an energy that you are a living part of. All your needs are being met. You are given the gift of nourishment in every form.
Relationship message: Sensuality, connection, and passionate romance between lovers; sweet moments of understanding; and love among friends and family are all here for you to savor now. Your heart's calling will be answered. Let your thoughts and feelings be sweet with gratitude and you will be nourished with the honey of abundance.
Prosperity message: There is only one authentic you. This version of your Self is Spirit's emissary in the world. When you're in alignment with the truth that you are a unique expression of the Divine, your ego can rest and your soul can illuminate your purpose. Now is the time when you're seeking your true north. When you find this direction, you automatically step into prosperity and the world brings you evidence of abundance. Miracles are a choice and a way of seeing the world. With every choice you make right now, you have the potential to seize good fortune and embrace your destiny. Opportunities will lead you to your best life now. Be open to them. You're getting a sweet taste of what you want.