You and the Universe
Need a question answered? Why not PICK some cards to ask the Universe for advice?
-mindfully contemplate your question
-click on the deck to pick your cards
-thank the Universe
(*not sure how to ask the right question for your highest good, download the pdf on this page)
Ask a question and then pick a card
Your card for the day
What else do I need to know?
Where is this going?
THE MYSTICAL SHAMAN
ORACLE CARD DECK
ENTER A WORLD OF ANCIENT EARTH WISDOM
Discover the cards that speak to you through sacred symbols
Connect to the collective wisdom of the natural world
Get clarity and guidance to dream your new story
TRY OUT THE CARDS
Click on the image
Ask a question, Pick a Card
Ask a question and then pick a card
Your Card for the Day
What else do I need to know?
Where is this going?

Open your heart to this deck and let it guide you to:
• Check in with yourself daily and get clarity
• Feel grounded and more in-sync with the earth's wisdom
• Bring sacred symbolic messages into your awareness
• Dream a new story of your most extraordinary life
beautiful box set packaging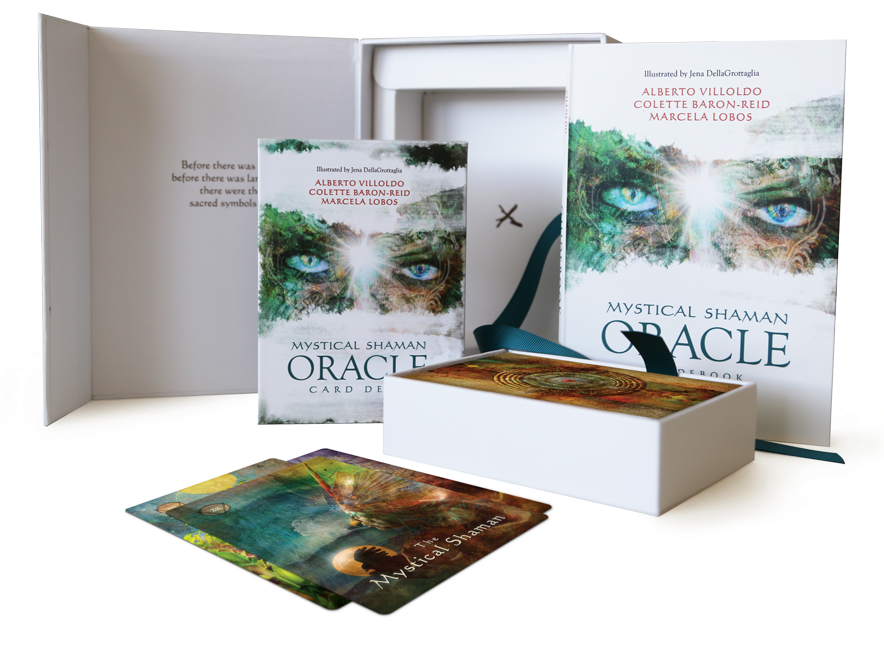 These ancient universal symbols bring clarity to the moments and choices that shape your life. Allow these messages to enter your heart and speak to you.  They are the guide that will help you invite the form of your dreams and desires to show up in your life for the highest good of all.
BUY THE MYSTICAL SHAMAN  NOW AND
RECEIVE A SPECIAL BONUS GIFT
Receive a bonus meditation to deepen your experience and help connect you to the power of the sacred symbols.
BUY THE DECK
Buy the Mystical Shaman Oracle cards anywhere books are sold or choose from one of these online stores
COME BACK HERE
Grab the receipt number from your purchase and return here
FILL OUT THE FORM
Fill out the form and receive a special free bonus meditation

You Are A Human Being Not A Human Doing
You work hard to nourish other people and projects. Now it's time to fill up your empty well and connect to Source, to the earth, and to the Universe.
In our busy, tech filled lives we often become disconnected from earth and source. Exhaustion takes over and our soul calls to us to take time to refill what has been depleted. When we stop and pay attention to the earth's wisdom, nature shows us that everything has a rhythm and a cycle.
Stillness and reflection are key to our growth. The time we take to pause and check in with ourselves allows us to have the experiences that provide the clarity we need to move forward with a renewed focus and energy.
Get the deck that empowers you to open up your connection to the Universe through sacred earth-based symbolism